Ronika is an Urban Planner and Designer keen on people-oriented design and sustainable development. At Transitions Research, she is working primarily on the Future Cities programme and providing a planning perspective to other projects on low-carbon solutions, digital society and the future of food. In the past, she was involved with urban development and policy formulation projects for the government and other public authorities.

Ronika holds an MSc in International Planning with a specialisation in Urban Design from University College London (UCL). Her work is inclined toward making cities inclusive and liveable by concentrating on the correlation between the public realm, gender and active mobility.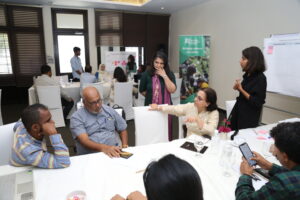 Nature-based solutions can help address environmental challenges in cities but community involvement and engagement is crucial to utilize local knowledge and create sustainable solutions.