Dominant Visions for Urban Nature:
In recent years, Nature-based Solutions (NbS) have gained prominence in climate policy as a tool to achieve net zero goals. However, this framing of nature has largely emerged from the Global North, and the opportunities and processes for implementation and subsequent tradeoffs have not been adequately examined in the context of developing countries, especially in South Asia.
Across South Asia, NbS are being employed in climate policies and country specific Nationally Determined Contributions as a means to tackle emissions and climate challenges. However, very little focus is being paid to nature in cities, which are rapidly growing and expected to accommodate 250 million new urban dwellers by 2030. In urban areas, nature is used by different species and diverse communities for varied uses. However, collective, dominant and institutionalised visions of the future of cities, shape urban development and thus, how nature should be produced and who it should be for. Local and community uses of nature, which are often undocumented and informal, are overlooked in master plans, which guide long term growth and development for South Asian cities; resulting in nature being produced in the interests of powerful actors and for visions that do not necessarily align with community needs.
Reframing Urban NbS – Identifying Local Goals: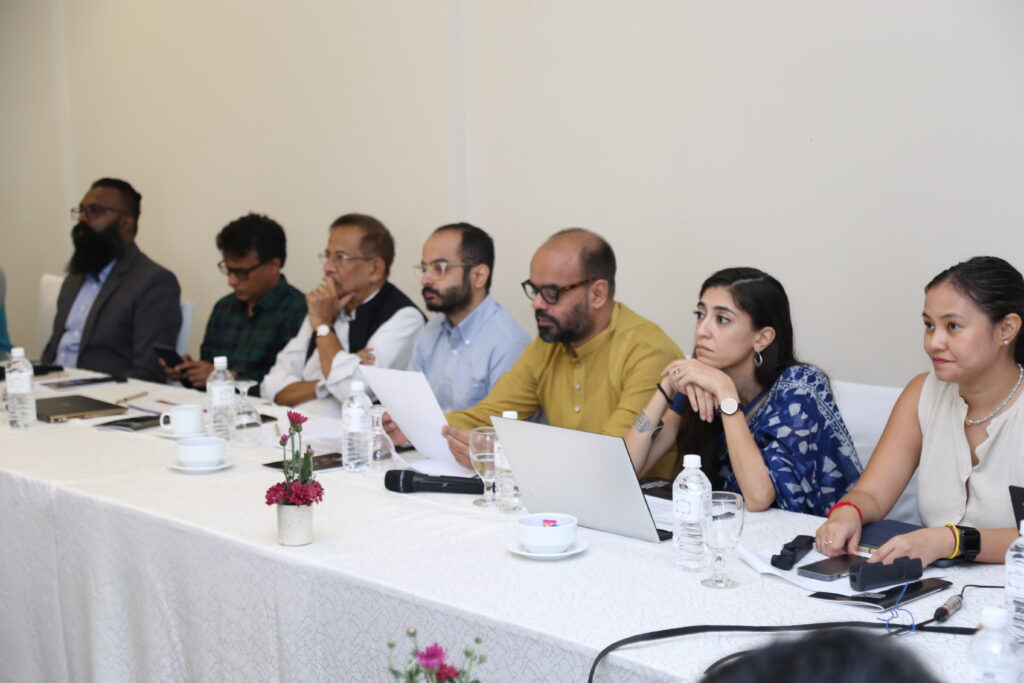 Our recently held Policy Lab on Integrating Equity and Reframing Nature-based Solutions in South Asian Cities, brought together policy makers, urban practitioners, civil society, knowledge partners and climate change experts from South Asian cities to critically examine and interrogate the current framing of NbS in South Asian cities.
We discovered that NbS projects have great potential to serve community interests if reframed to incorporate plural objectives that are linked to local challenges. Participants highlighted a variety of local and contextual frames for NbS projects, along with methods to challenge power asymmetries and dominant epistemological frameworks to bring these frames to the forefront of NbS projects:
Food security: From the banks of the Yamuna River in Delhi, to the badis of Ranchi, to green spaces in schools in Karachi, urban nature in South Asian cities serves as a space for agriculture and food security for the urban poor. In many cities, real estate pressures and visions for large parks and recreational spaces for city dwellers, challenge urban farming as a Nature-based Solution. Ms. Swati Janu from the Social Design Collaborative, highlighted how the Delhi Master Plan obfuscated urban farming and threatened to evict farmers for the creation of cycling paths and a biodiversity park along the Yamuna River. Her organisation mobilised the community to create bottom up, counter maps to document urban farms. These maps were presented to the development authority as the community invited them to come see their farms to spotlight their work and needs. Through long term engagement, the planning authorities have recognised farming as an activity in the revised master plan.
Local livelihoods: Along with being a resource that contributes to food security, urban nature also provides livelihoods for marginalised communities, especially those living in peri-urban areas. In Negombo, a small city in Sri Lanka,, water bodies like lagoons serve as a space for livelihoods and small-scale fisheries. A few years ago, the Government hoped to transform the city of Negombo into a popular tourist destination by creating a Sea Plane project in the local Lagoon. The project aimed to drive tourism in less accessible areas, but discounted the use of the Lagoon by communities living in and around Negombo. At our Policy Lab, the People's Alliance for Right to Land showcased how community leaders brought together more than 3,000 fisher men and women, church groups and women's organisations to protest and save the Negombo Lagoon. The Sea Plane project was called off and the Lagoon remained a space of economic activity for the community.
Biodiversity conservation: The wetlands of Colombo, Sri Lanka's largest and capital city, play an important role in flood mitigation, managing water quality and serving as a home for Sri Lanka's rich biodiversity, including the endangered Fishing Cat. The wetlands, which make up 15% of the Metropolitan region, are under threat from burgeoning development, putting the habitat for the Fishing Cat at risk. To ensure that NbS and the protection of urban wetlands can have benefits for biodiversity, the Urban Fishing Cat Conservation Project conducts research to raise awareness about threats to fishing cats and works with communities living near wetlands to discuss the importance of conservation. Dr. Anya Ratnayaka, the Founder of the Urban Fishing Cat Conservation Project, brought to light the importance of community advocacy. She mentioned that communities can be fearful of fishing cat attacks and may not engage in conservation. Her long term engagement, raising awareness about the importance of biodiversity and creating an environment of trust, helps bring communities together to work towards common goals such as wetland conservation and ensuring the protection of biodiversity.
Social and recreational spaces: Bangladesh's capital city, Dhaka, is one of the most densely populated cities in the world. The city's many water bodies, including lakes and wetlands, are reclaimed by development pressures, and open spaces for recreation and socialising are few and far between. The Integrated Development of Hatirjheel project was a wetland restoration project that aimed to connect communities in the city while adopting a nature-based approach. The project was implemented by the local government with significant inputs and engagement from communities living around the wetland. Restoration of local ecology and the creation of spaces such as walkways, information centres and public space, ensured that Hatirjheel became a space for recreation, ecological restoration and learning.
Adaptation to Urban Climate Risks: Many small and medium sized cities in South Asia are expanding into peri-urban areas on the fringes of existing cities. Gorakhpur, a city in North India, was rapidly expanding into the green spaces around the city. Areas that were originally farms on the outskirts of the city were facing development pressure and informal urban growth. This area traditionally served as a soak space for urban flooding, but unplanned urbanisation has exacerbated flooding across the city. The Gorakhpur Environment Action Group (GEAG), worked with local communities and government to promote farming-based NbS in the city that were co-created. Community mapping exercises, focus group discussions and local advocacy about climate change, vulnerability and resilience helped elicit community support for NbS.
Conclusion
Nature-based Solutions are not only actions to restore and manage ecosystems but also solutions to address societal challenges. To ensure that NbS can actually work towards ecological and societal sustainability, they must be reframed, with communities, to address local goals. The success stories that have been highlighted through our Policy Lab, underscore the importance of community engagement through the entire process of NbS, from conception to implementation. It is imperative that we continue to challenge dominant narratives and power structures within planning processes, to ensure that urban Nature-based Solutions are equitable and framed to address local and contextual ecological and societal issues.
This publication was funded by the Government of Sweden through SEI Asia's Strategic Collaborative Fund for the Policy Lab: Integrating Equity and Reframing Urban Nature-based Solutions in Growing, South Asian Cities